We brought Henry and the Twins to the vet today
for their vaccinations, together with a sick kitty,
Fred
.


Henry went in
THIS
The Twins in
THIS
and Fred in
THIS

All of us piled into
THIS
, Henry riding in the back and the Twins and Fred in the backseat
At the vet's, the twins were absolute darlings while Henry was displaying his usual craziness.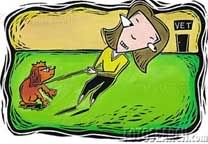 Turns out they're all healthy except that the twins have hookworm and had to be medicated. We brought back medication for their momma and it looks like I'm doing some spring cleaning of the yard tomorrow to prevent reinfestation.