There may be lights in Malaysia during Christmas
but being a predominantly Muslim country, there aren't many
pre
-Christmas traditions/happenings that are observed. Sure, there is the departmental store
sales
, the
lighted streets
and
commercials
on
TV
as well as Christmas
songs
on
radio
stations, but that's almost about it.
That's why it's so thrilling to be somewhere where the whole Christmas experience is
maximized
. Granted, some of it is the result of a lot of commercialism and economics, but still, there is no missing the
Spirit
in the air..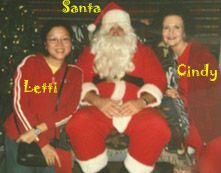 Today, we joined Cindy at Church for
Breakfast with Santa
, and I had my picture taken for the very first time with the Jolly Man in Red himself (
but as Elizabeth, our 5 year old niece whispered to me, "

Well, you know he isn't REALLY Santa
"
), had pancakes and sausages and decorated Gingerbreadman cookies..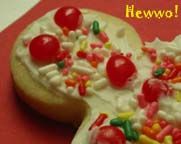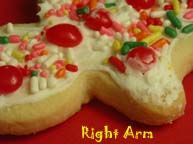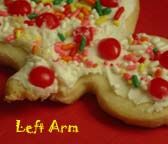 Unfortunately, my cookie fell on the ground and poor Gingerbread Guy broke his left arm..
Watch this space for some Christmas Parade Pictures soon!