At first we weren't sure
if we would be able to go for
bible class
because it had been snowing/"sleeting" Thursday night into the wee hours of Friday morning. But in the morning, the roads, although wet, were not iced over or real slick and the rain had let up some, so it was
business as usual
.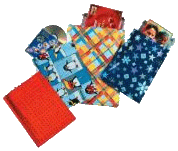 First off was bible class, and then we were off to the
post office
to mail some stuff back to Malaysia. Cindy's husband, Johnny, had printed several photographs of the family, and even one with (
almost
) everyone wearing shirts that my parents had sent for Christmas. I had to send some official stuff back to my mom and
JumbledMind
for them to help take care of some matters back home. THAT went pretty smoothly, not like some OTHER times......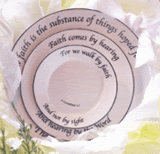 Next, it was off to
Jordan Taylor
's. They have a selection of "
Feed On The Word
" dinnerware/tableware that are very pretty and Cindy has had her eye on them forEVER. BUT, they are VERY pricey, and so we could just look and wish we had oodles and gobs of money. We're pretty doubtful they'll go on sale any time soon, though. I did get some
CrabTree & Evelyn
Lavender Carpet Refresher at half price (
need it with all those animals in the house
) though.
Next we were off to
Cypress Street Station
for a girly lunch of soup and salad. The
Chicken Tortilla Soup
was wonderful and while Cindy had the
Blackened Chicken Salad
, I had the Turkey slices with Bruschetta Salad and Asparagus. Talk about girliness!

We went on to browse at
Civilization
, where I bought a
Gooey Green Wiggle Pen
for the fridge, and off to Walmart for some grocery shopping and to get a
Subway
Melt for David ( read: MAN FOOD ).
Ooooo and I'm so excited because the 100 prints that I had ordered online from
WinkFlash
arrived, and they cost a grand total of 0.99 cents after a "
free 100 prints for first time customers
" coupon code. W00tness galore!