Believe it or not, we're still celebrating Chinese New Year.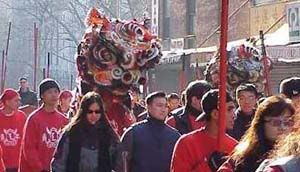 It lasts
15 days
and the next festivities in line would be the
last day
of the Chinese New Year, which would be on
February 23rd.
Several traditions are observed on this day, and one of them apparently
originated from
the island of Penang in
Malaysia
, called
Chap Goh Mei
(
translated as
"
The Night of the 15th"
)
Similar to Chinese New Year, Chap Goh Mei is marked with the blast of
fireworks
, a family
feast
and lanterns. The Hokkien community of Penang commemorates this day with a
procession
(Chingay parade)with stilt walkers, dragon and lion dances, and acrobats, to the beat of gongs, drums and cymbals.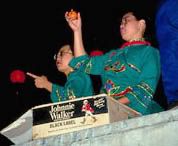 However, the
highlight
of Chap Goh Meh, which is often regarded as the
Chinese Valentine's day
, has got to be the
throwing of oranges
into the river, sea or lake by young girls. According to tradition, the girls will write their name on the oranges and
make a wish
for a compatible and
good husband
before they throw it. Somewhat like tossing a coin into a wishing well.
Apparently, in the past, Chap Goh Meh was one of the few occasions where eligible young ladies, were allowed out from the confines of their homes and thus able to "interact" with the opposite sex. Bachelors could only admire from afar as the ladies were always accompanied by an entourage of the fiercest looking aunts and amahs (servants)!
While many no longer believe in the legend, it is still a
fun thing
to do. The tradition still prevails to this day. I
myself
probably have also been
"guilty"
of orange-throwing once or twice in the past...

The OTHER "last day of the Chinese New Year" celebration will be explained tomorrow..and it involves lanterns and yes, FOOD!!!!.