It is the 7th day of the Chinese New Year..
and according to traditions, it is
everyone's birthday
, the day when everyone grows one year older.
The seventh day of the New Year is also a day for farmers to
display their produce
. These farmers make a drink from seven types of vegetables to celebrate the occasion and
noodles
are eaten to promote
longevity
and
raw fish
for
success
.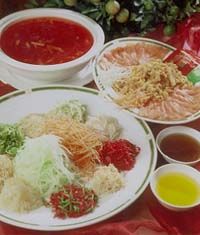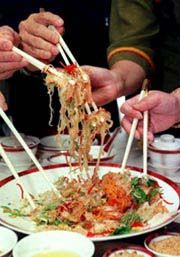 Nowadays, the vegetables, noodles and fish are made into a special dish called
Yee Sang
, where people get together to toss the colourful salad and make wishes for continued wealth and prosperity.
"Yee" means fish
"Sang" means not only raw but also rising and alive