Most of Texas is flat, flat, flat....
where you can literally step out of your backyard and look over the horizon to see the earth curve around.

But in the heart of Texas, there is a beautiful 14,0000 square mile area with rolling hills, crystal clear streams and towering oak & cedar trees known as the Hill Country, and this was where we travelled through to get to Kerville, 200 miles away, for David's aunt's memorial service.

A lot of the land belongs still to farmers and often, there would be highways that have to criss-cross through the land and we were on one such highway yesterday.
That was the first time I ever had to go on a road where livestock was allowed to roam about without fences, aided only by cattle guards on the road itself! Cattle guards are grills, usually at the gate entrances of farms to keep the livestock in without a fence because the cattle would never walk across the grills for fear of getting a hoof caught between the grills, apparently.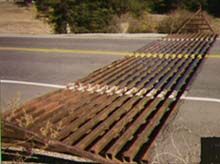 ( We even have one at OUR gate! )