Finally, the Chinese New Year celebrations came to an end last night.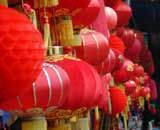 Yuanxiao Festival
or the
Lantern Festival
is celebrated on the
15th
( and
last
) day the Chinese New Year's Day, which is also the first night of the new year to see a
full moon
.
The most popular food for this festival is "Yuanxiao" , a
dumpling
made of glutinous rice or wheat flour. It is also called "
TangYuan"
, which in Chinese, has a similar pronunciation with characters meaning
reunion,
and so are also eaten to denote union, harmony and happiness for the family.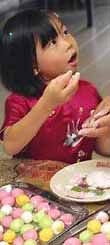 The filling inside the dumplings are usually sweet, and made up of sugar, walnuts, sesame seeds, osmanthus flowers, rose petals, sweetened tangerine peel, bean paste, or jujube paste. There is also a savoury variety is filled with minced meat or vegetables.

When my grandmother was still alive and able, she would make sure we observed this and would give each person the number of dumplings which corresponded to their age, to signify everyone becoming a year older with the new year. I remember she would also colour some of the dumplings pink with food dye.
Other than this, the displaying of lanterns is still a big event throughout China. Qinshihuang, the first emperor to unite China started the tradition of splendid ceremonies like lantern fairs and drum beating extravaganzas on this day.

While some places may not observe the lighting of lanterns, the custom of eating Yuanxiao dumplings remains. Although I didn't make any dumplings this year, I found a recipe for it online.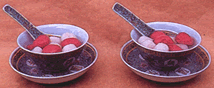 Making Your Own Yuanxiao
Ingredients
4 1/2 cups (500 g) sticky rice flourbutter 7oz. (200 g) black sesame powder 7 oz (200 g)sugar 8 oz (250 g)1 tsp wine
Mix the butter with sesame powder, sugar, and wine together. You need to heat a little bit. Make small balls about 0.3 - 0.4 oz (10 g) each.

Take 1/2 cup of sticky rice flour. Add water into the flour and make a flattened dough. Cook it in boiled water and take out until done. Let it cool down. Then put it in the rest of the sticky rice flour. Add water and knead until the dough is smooth.
Make the dough into small pieces about 0.3 - 0.4 oz (10 g) each. Make it like a ball using hands first and then make a hole in the ball like a snail. Put the sesame ball into it and close it up.
Cook them in boiled water. Make sure to keep stirring in one direction while cooking. When they float on the water, continue to boil for about one minute using less heat.
They are usually eaten with a sweet gingery soup.