FINALLY..
I think we've narrowed down the place to have our Chinese Wedding Dinner...
Ecko's Chinese Restaurant
. Cindy's in the picture, marvelling at all the Chinese lanterns.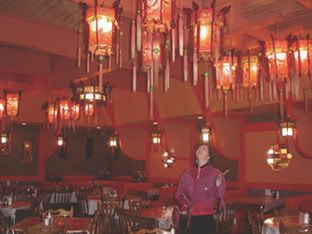 "Ecko, originally from Taiwan, and her husband, Gary Barbian met while he was stationed at a Taipei airbase. He was a flight engineer, while she was a mess hall supervisor. The pair bounced from base to base until they ended up at Dyess Airforce base.

Barbian was encouraged by a group of other Dyess airmen's wives after they tasted her cooking at a potluck luncheon. She started small and opened a catering business in 1975. Within a year, business grew so much that she was able to open Ecko's Restaurant, once located in the Wooten Hotel. The restaurant, now at 2701 S. 1st St., is one of the longest surviving Chinese restaurants in Abilene. "

Henry update coming up tomorrow..