No, not just one, but TWO more!
About 3 weeks ago, we were at David's niece's house and there was an Australian Blue Heeler hanging about outside their door, which made her husband quite irate. Since the dog had a collar on it, David guessed that she had to belong to someone and was most probably lost because Stephanie didn't recognize it as any of the dogs in the neighbourhood. So we took her home and put an ad in the paper, hoping that someone would call and say that she was theirs.
No such luck.

Several people called though, to say that if no one had claimed her, that they would want her. And she really is quite a sweet dog.
Then 4 days ago, she had puppies. TWO of them.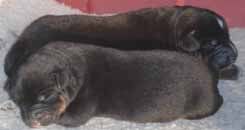 I guess we're stuck with her for a while... *smiles*
What AM I gonna do now?